---
מסע לטורונטו מטעם "משפחה אחת"
בסתיו 2006 הועלתה תערוכת התמונות בפעם השניה בטורונטו, אמנם במתכונת שונה במקצת, בתערוכה זו הוצגו עבודותיהם של שלושה צלמים, כל אחד צילם מזווית אחרת.
הביקור בטורונטו כלל מספר ביקורים לבתי ספר לשיחות עם תלמידים ושיאו של הביקור היה ערב הפתיחה של התערוכה שבה נשאתי דברים לפני אורחי הערב.
התערוכה התקיימה באולם האירועים של בית הכנסת הרפורמי Holly Blossom בטורונטו, בית הכנסת הגדול בעיר כיום.
ביקור בבתי ספר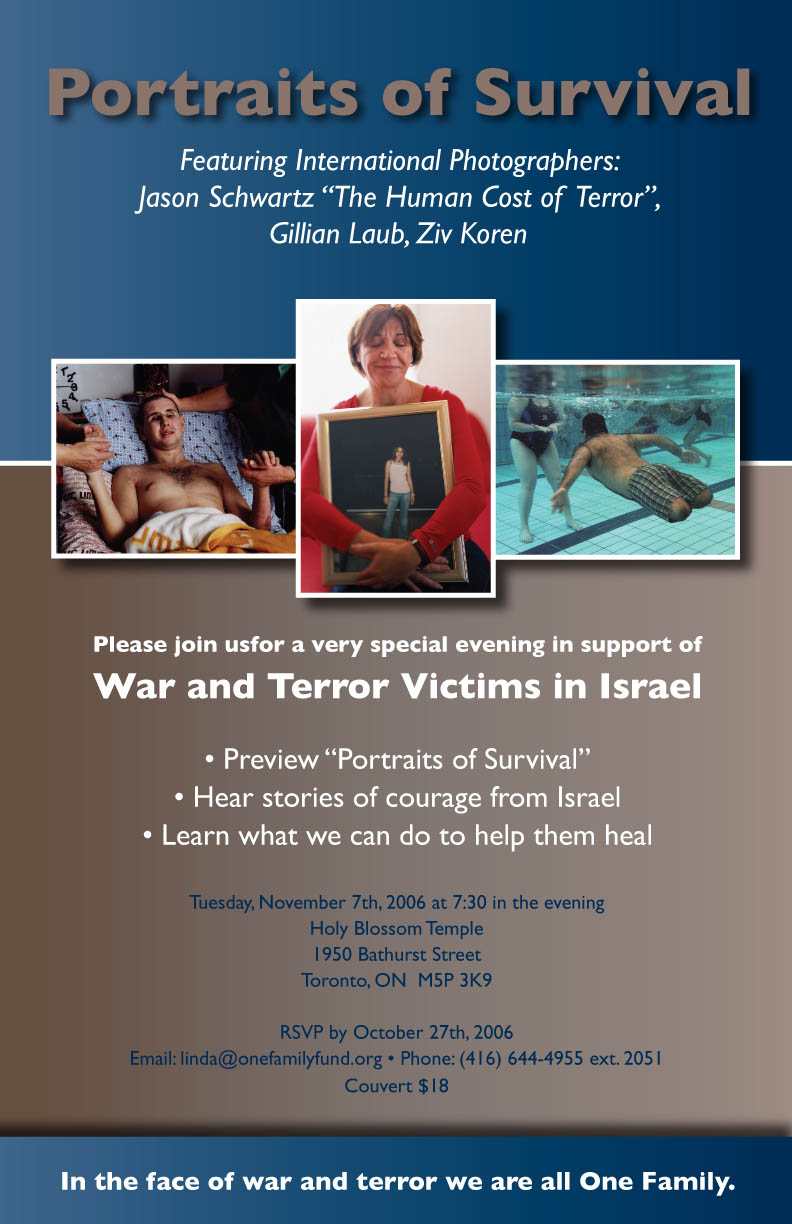 זוהי ההזמנה לתערוכה שהוצאה על ידי "משפחה אחת".
תמונות מהתערוכה והערב שלשמו באנו לטורונטו

התערוכה נבנתה מצילומים של שלושה צלמים - חלקה הראשון צילומיו של ג'ייסון שוורץ אשר צילם בארץ את בני המשפחה של חללי הטרור ודרכם הראה את השפעת הטרור על החיים בישראל. לפרטים נוספים על התערוכה עברו לדף של התערוכה מאביב 2006.

צילום בחברתם של הצלם ג'ייסון שוורץ ואשתו.

חלקה השני של התערוכה - צילומים של זיו קורן - שעקב במצלמתו אחר תהליך ההחלמה של חייל פצוע אחד

החלק השלישי של התערוכה - צילומיה של גיליאן לאוב - מעקב אחר פצועי טרור

בטורונטו עלה בי הרעיון לאסוף אבנים לאסף - שם נולד הקמפיין אבנים לבלונדי. באחד הימים במסגרת סיור בעיר ביקשתי לרדת לשפת אגם אונטריו לאסוף אבן. היה יום גשום מעונן וקר. כל הקבוצה יצאה לסיור אך לא מצאנו אפילו אבן אחת, הגישה למים הייתה קשה באיזור זה, לבסוף ויתרתי ואת האבנים מהאגם שלחו בהמשך חברי הקבוצה באימייל, האבנים נמצאות ליד קברו של אסף.

בהמשך הוצגה תערוכתו של ג'ייסון במיאמי - לאחר התערוכה התפרסמו שתי הכתבות האלה
אלה הדברים אותם נשאתי לפני אורחי התערוכה בערב הפתיחה
On Wednesday, March 5th 2003, five high school students left their school, Ort "Chana Senesh" in Haifa after yet another school day. The group included 3 girls and two boys, they walked toward the near bus station. Their objective was to catch bus 37 which would have taken them home. When they approached the station they saw two number 37, buses. The first bus was packed with school students from the nearby "Wizo" school who had been dismissed earlier then usual. Instead of getting on the bus with the Wizo students, the group approached the second bus. One of the boys stepped into the bus and saw someone he had fought with recently who he did not want to encounter that day. He turned around and stepped off the bus, "I will take another bus" he said to the group and went off leaving the rest of his group on this bus. The girls on the bus debated where to stop for lunch, they considered two places and finally chose the Carmel center, they started to go off the bus but before doing so, they asked Asaf, the second boy in the group, if he wanted to join them. Asaf replied that he was tired and was going to home to rest. Ortal, Asaf's girlfriend kissed him goodbye and he promised to call her later as she departed with the other girls in the group. While on the bus, Asaf called his friend Daniel and asked him what was planned for later, they chatted for a minute and Asaf promised to call later. Just another normal teenager casual call.
A few minutes later and after passing two more bus stops, at 2:12:32 pm the bus exploded. The explosion was heard all over the Carmel area.
Asaf, almost 17 years old was killed on spot.
My name is Yossi and Asaf is my son. I have 3 more sons, the oldest, Arik is 23 years old, Asaf who would have been 20½ and I also have two younger children - Almog is 10 years old and Eitan is a 1 year and 4 months old. He was born on July 4th 2005. He is our blessing and joy in life.
Eitan has proved to us and to the whole world, mainly to us that life prevails. We had to create a new life and dedicate ourselves to making him live happily and safely.
Asaf loved wave surfing, listening to music, playing the guitar and going out with his friends. In order to commemorate his love of surfing we created his tombstone in the shape of a surfing board coming out of the sea filled with waves. I have also built an internet site in memory of Asaf which displays his short life in text and pictures. I would be pleased if you visited the site at www.blondi.co.il
On the bus 17 people died, among them:
-9 were school children aged 18 years or less, school children on their way home
-2 immigrants from USSR, one a Christian and one a Jew.
-An American girl whose family had lived in Israel for 15 years and worked overseeing the Baptist community's property.
-One Druze girl from a village near Haifa
and finally a 27 year old Muslim woman n her way to work.
A small group, of all faiths, from various origins, various religions, a spitting image of the Israeli society.
I visited Toronto this past May to attend another photography exhibit, also benefiting the OneFamily Fund. I was asked to speak in a similar setting and at the time, I spoke about how I was trying to stay active in those areas I find important to the protection of my other boys. I spoke about my joining to Retired General Uzi Dayan in his campaign for a security fence. We now know that the fence works and saves life. It was not so easy to convince others of this two or three years ago.
I also spoke about my campaign against the movie Paradise Now which came out last year. The film won a Golden Globe and was being considered for nomination to the Academy for an Oscar Award. Paradise Now was a joint Palestinian-European production. The movie is a documentary showing the last 48 hours of two suicide bombers up to and including their attack.
When the film won the Golden Globe I was furious. I wrote a letter expressing my disgust and sent it out over the internet. The letter ran on the net like a bush fire. It was translated into twelve languages, including Italian, Norwegian and Portuguese.
By the end of January the movie was nominated for an Oscar. To our astonishment we found that the Academy Award ceremony was set for March 5th 2006, 3 years to the date of the attack in which Asaf died. We were angered, depressed and afraid that the movie could win an Oscar on our child's Yarezeit.
I started a petition calling for the Academy to revoke the nomination. We had a month to make people aware of the petition. We managed to collect 36,000 signatures and sent them to the Academy. I believe today that thanks to the petition and the media coverage we received, we managed to prevent the movie from winning the Oscar.
I believe that we managed to convey the message that such a movie is not worthy of international prizes and only encourages more terrorism. I also believe that we managed to achieve all this thanks to the strong support of the Jewish community in North America.
Today May seems so far away, its hard to believe only six months went by.
On the morning of July 12th, Hizbullah crossed the International border between Lebanon and Israel, a border that was recognized by the UN and the International community in UN resolution 1583. two soldiers were taken alive, 7 others killed.
The second Lebanon war started.
The sirens kept blowing, rocket attack after attack were launched on my city –Haifa. No matter how many times I heard and continue to hear the siren I cannot get used to it. I was sitting in the bomb shelter looking at my two young children, I could not keep my thoughts from wandering off to my third son Asaf, who couldn't be affected any more by these Mid-East conflicts.
Asaf can't get hurt by rockets, missiles and other flying bombs. While we sat in the shelter his tombstone is standing outside, defying the flying destruction to come and hit it. I looked at my two boys playing and watching TV in the bomb shelter thinking that I will not allow anything to happen to any of my children again.
Regretfully the war ended and the soldiers are still in Lebanon, I hope they will return to their families soon.
Today's biggest threat to Israel comes from Iran. The Iranian President is declaring to the world that he wants to destroy Israel. He continues to develop nuclear weapons and threaten to use them against Israel.
This weekend Fox News broadcasted a Film called "Obsession" by Wayne Kopping the film shows the direction the world is moving towards. According to Dr. Allan Dershowitz, "If Islam gets its way there will be another holocaust".
Can we sit still in the face of these events?
From the second Lebanon war, we can say clearly and it was said by Prime Minister Ehud Ulmert, in the next war the home front is going to be the front. This means that civilians, elderly, women and children will be hurt, there will be more "human cost of that terror" and "many portraits of survivial".
As I tell the children I meet in schools, the Jewish people are standing on two fronts these days. One front is in Israel and today more then ever it is fighting against the Iranian threat, fighting for the future of the country and the people living in it.
The second front is more global -the fight against Radical Islam and its terrorism, against anti-Semitism and against any act of hostility towards Jewish communities wherever they may occur. By way of example, acts that are happening today on daily basis in France where the Islamic community is 5,000,000 versus the Jewish community of 400,000. These daily acts should not be allowed to spread to other places around the world.
You and your children are standing on that front and your involvement holds a very important job in helping us in Israel to assure the well-being of the Jewish people.
The exhibition we all came to see tonight looks at family members of terror victims, and at the human cost of terror. As titled, we are looking at portraits of survival. The common denominator to all families who are victimized and those you see in the pictures is the desire to share the stories of their lost loved ones to as many people as possible.
Asaf, My child lives through me and through the activities I am doing, through my stories, through all the commemoration places that I created.
This exhibition allows all these victims of terror to continue to live in your hearts and minds.
I think that Jason Schwartz, on of the three photographers showing in this exhibition and who should be given credit for having pulled this show together, did a wonderful and an enormous job. I am not trying to put myself as a photography judge, I am not presuming to be able to do that, he did an enormous job because he had to go from house to house, hear the stories and meet the people. Each family is eager to tell its story and even though Jason intended to stay there 10 minutes he stayed 2 hours, my house, my story included.
The exhibition is here and I am here thanks to One Family fund. An organization that is making a huge difference in the lives of bereaved families and terror victims in Israel.
I got to know One Family almost immediately after the attack.
Anatoly Biryokov who was 21 years old was badly wounded on the 37 bus and after 4 days died in the hospital. His organs were donated and saved four other people. His mother and sister don't live in a very good neighborhood and following Anatoyly's death, they experienced a number of break in's. The thieves thought they had a lot of money resulting from the compensation they received from Anatoly's death. The thieves stole many belongings including some very dear momentos of Anatoly that didn't have any real value except a sentimental one. After the third or fourth time they were broken into, "One Family" was called to help. Within a few days the house windows were covered with Iron bars and the front door was replaced, One Family also bought them a new refrigerator. That family could then go back to normal life and try to handle the disaster that came upon them without having to worry for their personal safety.
One Family helps in many other ways. One example that I have experience is that it organizes weekend retreats for bereaved parents. The weekend includes staying at a hotel, lectures as well as time to just relax. The most important thing about these weekends is the ability to be together with other parents that know how you feel. Being able to remove all the "masks" and be yourself and to hear other parents and be heard. The feeling of being together and be able to relax gives strength and encouragement.
One Family does the same thing for siblings of victims. By taking them to summer camp or trips or any other activity that allow them to be together with others who know exactly how they feel. On some of those trips the brothers can have a chance to tell and share their stories and sometimes its pure fun. These activities create not only a close community on the trip or the camp but create close relationships are maintained long after this experience. These relationships are important since they allow one to have someone to talk to when needed every day.
One Family may not be aware that the biggest thing they can do for me is to allow me to speak here in front of you and on many other similar occasions.
While Asaf lived it was his task in life to introduce himself to the world, now that he is gone it is my task. I will take his picture and go from place to place, from person to person and tell his story and make sure he lives on in people's hearts and memories.
One Family is fast to respond and not tied up in bureaucracy. Their ability to help and their good intentions makes them invaluable to the large community of bereaved families.
Let's not forget that in a terror attack there are 5-6 times more wounded then dead. Those wounded sometimes suffer years after the event and thanks to One Family many of them can have small moments of enjoyment when they get a computer, a DVD or a special wheel chair they need.
I want to thank the wonderful staff of One Family who organized this impressive event and who made my stay here in Toronto so pleasant.
And last but not least, thanks to each and every one of you in the large audience who came tonight to the exhibition, who came to see the faces and to sympathize with them and who will take back tonight a small fraction of each victim in their heart, in their memory to remember and to honor.
Let me end my talk today with the eternal prayer of our people:
"עושה שלום במרומיו, הוא יעשה שלום עלינו ועל כל ישראל ואמרו אמן"
"He maketh peace in his high places he will make peace upon us and upon all Israel and say Amen"
Thank you!
Yossi Zur
Haifa, Israel
דף הבית חייו ספר מבקרים קישורים הספדים מכתבים תמונות
---